Really, Yotam Ottolenghi should have been partying. It was mid-December back in 1998, in a twinkling, Christmassy London, and on this particular day Yotam turned 30. The Israeli-born pastry chef was not in the mood, however, for champagne and birthday cake.
"I was very miserable," he recalls. "Miserable about life, thinking, 'What am I going to do? I'm 30 years old and very junior in a kitchen in a restaurant in London. I don't know where my life is taking me.' These thoughts were in my head. I wasn't quite sure if I was going to stick with it and remain a chef."
He was still feeling dismal and down when, a few months later, he visited his parents at the family home in Jerusalem. They had already worried about him becoming a chef (his father had previously grumbled, "You've got brains. Why do you want to go and waste your time in a kitchen?") So perhaps his mother was not surprised when he told her, "I don't know what I'm going to do. I've got no sense of direction."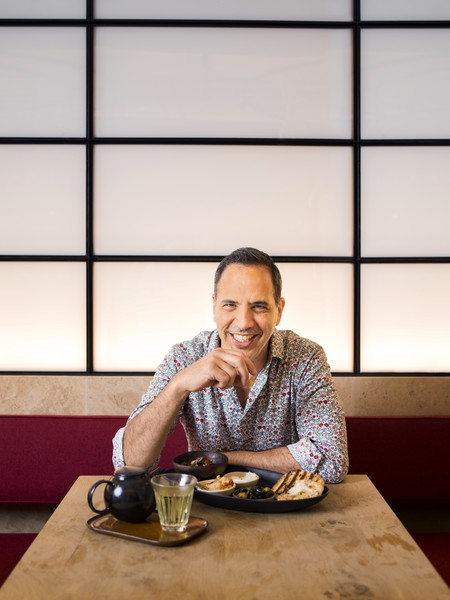 Now, let's whizz to the enchantingly happy ending for that young man with no plan. Two decades on, he has shops and restaurants across London. He is one of Britain's most beloved food writers, specialising in the edible delights of the Middle East and the Mediterranean. He has a new book out, Ottolenghi Simple (Ebury Press; £25), and a recently opened, much raved-about restaurant, Rovi, in London's Fitzrovia.
So when Yotam turns 50 in December and considers what he has to celebrate, there is – to borrow one of his book titles – plenty. Actually, there is plenty more: he and his husband Karl Allen are the fathers of two young sons. Max, aged five, and Flynn, three, came into the world – in the US state of Massachusetts, to be precise – with the assistance of a surrogate mother. "It's important to talk about gay parents," he says. "Because you don't hear about it as much as you do about 'normal' families."
Family played a role in the creation of the new cookbook too. It was inspired – in part, at least – by Yotam's sister, Tirza. "She's a very busy working mother with three kids, and she'd say, 'I can't cook your recipes because I don't throw lavish dinner parties, and I'm not going to start making one of those recipes on a school night.' My recipes can be epic, and Tirza – and a lot of people, for that matter – have no time to peel a million garlic cloves for a tart." Her voice was in his head as he worked on Simple with co-authors Tara Wigley and Esme Howarth.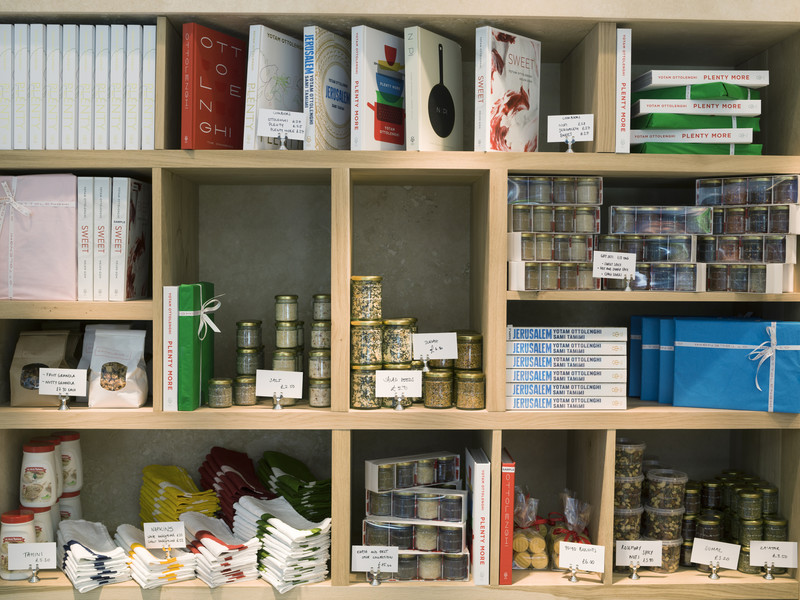 We have met for a relaxed breakfast in one of his large restaurants – Ottolenghi Spitalfields. Yotam is tall and collected. He hasn't cooked in a professional kitchen for years ("I don't think I could now, because I'm out of practice"); he comes to work late and leaves early in order to maximise time at home. He always holidays in Greece, hero-worships Egyptian-born food writer Claudia Roden and likes to visit a Turkish barber near his home in Camden to "get the full treatment – a proper shave and a bit of a face massage". His dark-ish side? "Most people would say I'm a control freak. I can't deny it."
He is also gentlemanly, polite, and apologises for being late – by a whole five minutes – with a decent excuse: "Before I left home, our little boy, Flynn, said, 'Let's have a cuddle in bed before you go.'" We eat a Middle Eastern breakfast and he drinks chamomile tea because "three coffees a day is my limit. I've already had two."
Yotam grew up a happy child in a middle-class family in Israel. "My dad was a professor, my mum a head teacher. So we grew up in a very liberal household where we enjoyed good food and travelling. It was an open world. I feel very privileged to have had that. There was always a sense that at the end of the day, whatever we wanted to do, we could."
His future seemed assured. Intelligent and studious, he would either follow his parents into academia or become a journalist. Plans, though, bothered Yotam. "I wasn't sure that I wanted to commit for life to one of those professions. And I just decided, 'Oh, let me try something else.'"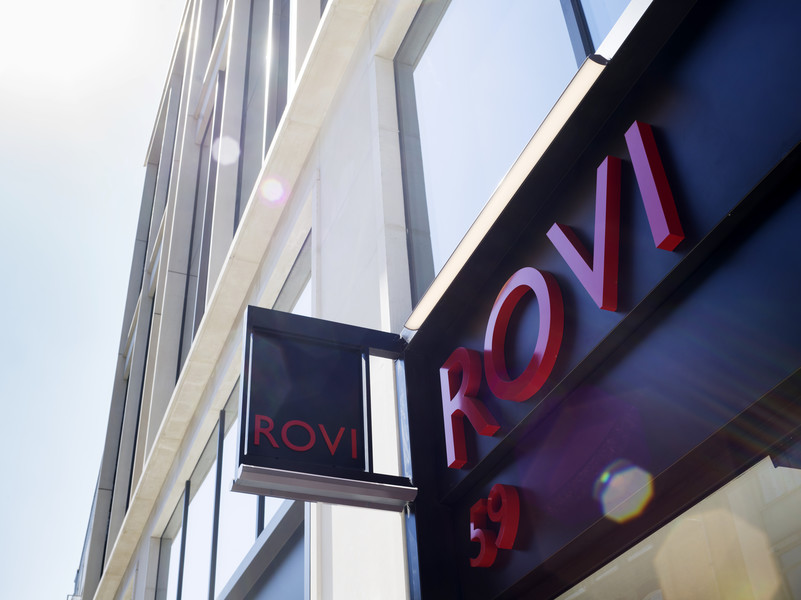 So in 1997 he came to London, where he took a couple of Cordon Bleu cookery courses, unclear where he was heading. However, he did feel comfortable – welcomed, accepted – in Britain, "where the people are quick to adopt other cuisines", and in a capital which he loved, "because you can do what you want and be who you are."He worked for chef-patron Rowley Leigh, first at Kensington Place and then at Launceston Place. "I realised at a very early stage," he says, "that cooking at home and cooking in a restaurant are completely unrelated. The only similar thing is the ingredients. But other than that, it's not the same recipes, processes or state of mind. I needed to see what it would be like and, as I'd anticipated, it was rather stressful. Difficult. Unforgiving. But the environment was inspiring. I stuck to it, but I had no plan."
His "miserable" 30th birthday came and went. Then one day, things took a turn. Mighty oaks from little acorns grow. It was a brownie that did it for Yotam. "We worked in the basement at Launceston Place. We never saw the guests, but we did get feedback from them via the front of house staff. One day I created a new brownie and the feedback was, 'That's the most delicious thing.' I had an immense feeling of achievement. All of a sudden, something that I had created was so popular. I'd got that wonderful reaction." He was propelled to persevere as a chef. "That's when I thought, 'I can do this.'"
A couple of years later, his ex-partner and friend Noam Bar said, "Why don't we open a bakery or patisserie shop?" They would be soon joined by business partner Sami Tamimi. The same age, Yotam and Sami both grew up in Israel, but they met as fellow chefs at Baker & Spice in Knightsbridge. With Sami on board, "We expanded the brief, turning it into something bigger – a deli."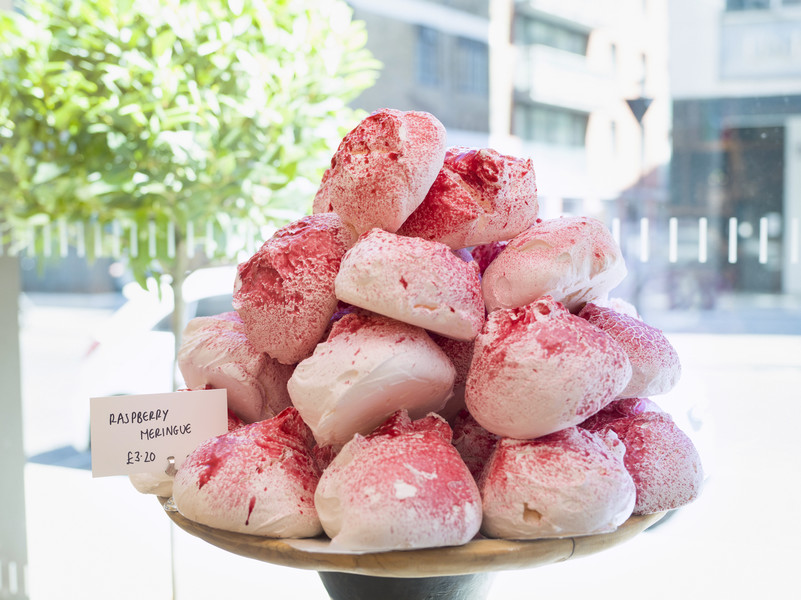 When the first Ottolenghi opened in Notting Hill, it was something novel. Customers were greeted by a colourful, highly visual feast. Food was displayed in an artistic way, which at the time was pleasantly unfamiliar. Meticulous attention was given to props (such as beehives and flowers), furniture and decor. The restaurant exuded vibrancy, panache and elegance: style as well as intriguing substance. "We thought so much about not only flavours, but what people see." When Yotam and Sami published their first cookbook in 2008, they had lift-off; more restaurants and books would follow, and – five years later – so would Yotam's first son.
He and Karl have been together since 2000. Karl managed one of the Ottolenghi shops, but when Max was born Karl turned full-time dad. They want their sons to know how they came to be. "We are very clear that we tell them whatever they can comprehend," he says. "We show them pictures of the surrogate, and say, 'You were in her tummy.' We're not keeping anything out of their reach."
And what of his own father, who had implored him not to become a chef? "He's admitted his mistake many times," Yotam smiles, and adds: "But he was kind of right to be concerned. He was just being a father."
Interview by James Steen, originally published in Waitrose & Partners Food, October 2018