Salt in Stratford-upon-Avon has been a genuine passion project for this ambitious young chef, and it was made possible entirely by crowdfunding, with people paying as little as £20 to help kickstart the business.
Formerly the head chef of the Mallory Court in Royal Leamington Spa, Paul raised just over £100,000 in a month from 605 generous backers.
It was enough to allow Foster to realise his dream of opening his own restaurant in March 2017, but it also gave Stratford-upon-Avon the top-end dining establishment it deserved.
'The Kickstarter campaign was amazing and people were so generous,' says Paul. 'I wanted to open the restaurant with as little investment as possible. We were struggling to find backers, but although it was a huge risk it was something we believed to be possible.
'I have been so passionate and dedicated to Salt that had the crowdfunding not worked, I would have done whatever it took to get it open.'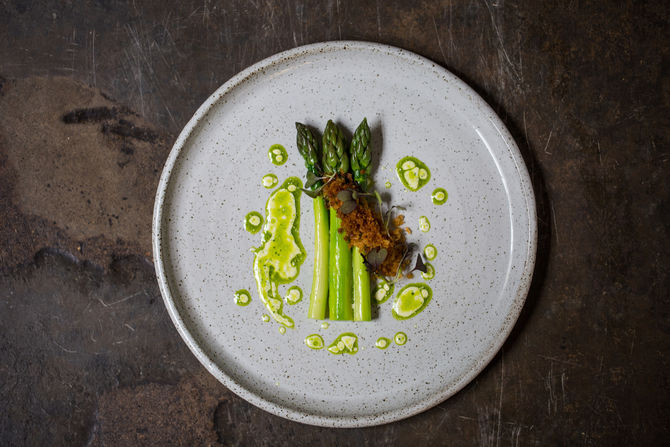 Salt is a collaborative effort between Foster and his wife, Rhiain, who previously worked in business management and human resources.
'We were very surprised and totally flattered to be awarded Best New Entry,' says Foster. 'There have been some amazing restaurants opening around the UK over the past year, and for The Good Food Guide to pick us as the best is a huge honour.
'Since the award, bookings have increased considerably because I think it has given us a wider reach around the UK. More foodies willing to travel for food have been coming to dine since they heard the news.'
Priced at £37 for three courses, Salt's menu is seasonal and locally sourced, but globally inspired. A starter of crispy pork belly, salt baked kohlrabi and pine pickled gooseberries might be followed by roast cod, Cornish crab sauce, dressed seaweed and shaved fennel. Desserts include British raspberries, baked yogurt, pistachio cake and basil, or Valrhona chocolate ganache, miso ice cream and banana toffee.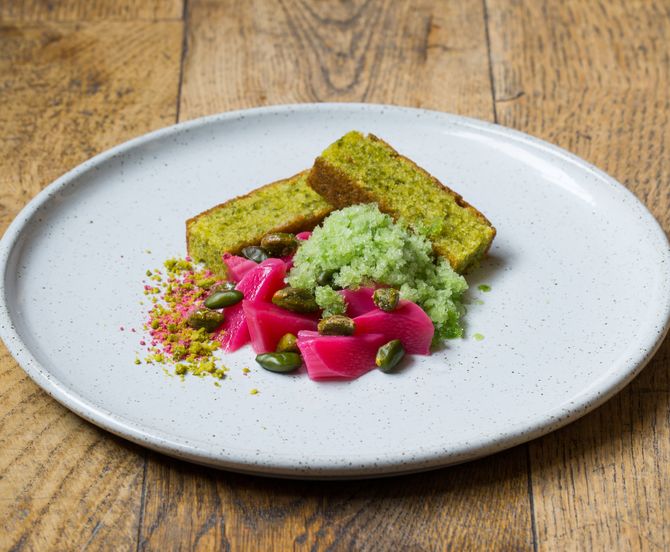 Like an increasing number of top restaurants, Salt has made the brave decision to only open half of the week. Running along these lines is a growing trend for small operations and something Paul says makes sense on different levels, not just financially.
'We can only really operate this way as we are so small,' he says. 'Opening the second half of the week helps us give the staff some guaranteed time off so they can make plans and get in some social life.'
After leaving his previous job, Foster took a year off from cooking to find the right site for Salt. The original plan was to open in Leamington Spa, where he had worked for the past two years and gained a following, but when the deal fell through on the site he had set his heart on, he started to look at nearby Stratford-upon-Avon.
The 40-cover Salt occupies a Grade II-listed site that was previously a tapas bar and it is packed with original features including original stone floors, wooden beams and a vast fireplace close to the open kitchen.
Stratford-upon-Avon is dominated by high-street chain restaurants catering for the large numbers of tourists flocking to the town, but one thing that has made Salt stand out from the crowd, apart from being completely independent, is its garden, which has become something of a focal point for this restaurant on Church Street.
The chef says: 'The garden is great and it has brought in additional business in its own right. It is very rare for a town centre restaurant in Stratford-upon-Avon to have a garden area for pre- and post-dinner drinks. It has also allowed us to grow a small amount of produce, which we now use on the menu. Customers really seem to appreciate the fact that we can grown some of our own ingredients.'
In the space of just a few months, Salt is firmly on the map as a restaurant with a bright future, and Foster says winning the award for Best New Entry has topped what has been a phenomenal first year for his debut restaurant.
'For now, the bookings are looking great,' he says, 'and the short-term plan is to carry on as we are and keep pushing the food forward and making the service even slicker.'
Discover all of our 2018 awards winners
Published September 2017