It has been a remarkable year for Clare Smyth who opened Core in London's Notting Hill in August 2017. Although no stranger to 10/10 scores, having achieved them three times as head chef of Restaurant Gordon Ramsay, this is the first time as her own boss and Clare says she didn't expect to be such a high new entry in this year's guide.
'It's amazing when you get this kind of feedback. Scoring top marks also adds pressure because people come with certain expectations so that's a challenge but it's a very privileged position to be in and we are always very grateful for that. I just say to my team, "do the best you can every single day"'
Singled out in the Guide for coaxing 'intriguing ingredients into one composition' and for the 'strikingly vivid' flavours in dishes such as braised whole carrot topped with slow-cooked lamb and sheep's milk yoghurt or Morecambe Bay shrimps in nutmeg-infused brown butter, Clare is now regarded as one of the country's best chefs.
She says: 'It has been a phenomenal year and I couldn't have wished for a better start. I genuinely didn't think people would be so overwhelmingly supportive. The opening was tough as we were really delayed. It was a real curveball after working 15 years at such a top level. I always knew if we had faith in ourselves, our knowledge and our ability it wouldn't take long before we got to where we wanted to be. We're still not there but you never are – that's the fun of it.'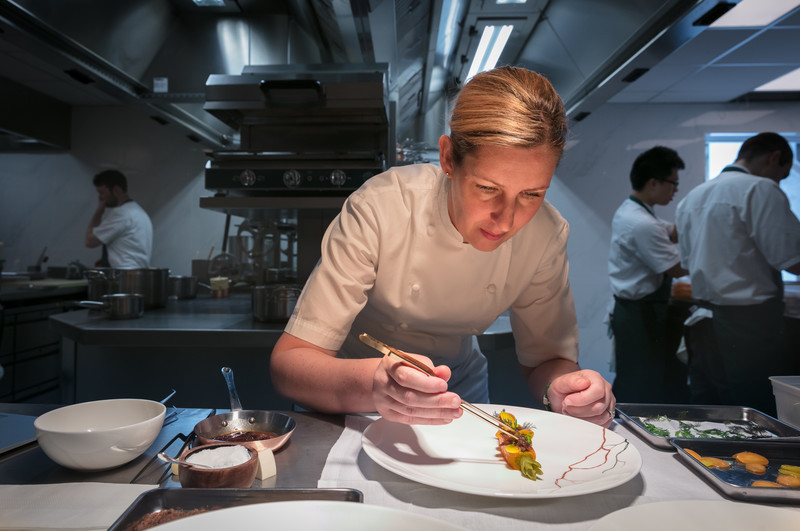 Clare's first solo restaurant may be only one year old but it has been more than 20 years in the making for this daughter of a County Antrim farmer. She's been cooking in restaurants since the age of 15 and started working for Gordon Ramsay at his flagship restaurant on Royal Hospital Road in 2002, eventually becoming head chef. In 2013, The Good Food Guide awarded her Chef of The Year.
'Core has been built on my reputation and everything I did previously. It's also pretty much an extension of my decade at Restaurant Gordon Ramsay. I speak to Gordon regularly about every detail of Core. We're like an extended family and he's still a massive mentor. He doesn't like to come to eat here because he thinks he would be a distraction but he'll come to tastings and he tries out dishes in the kitchen. He's the person I look to for advice and he's unbelievably supportive.'
'It sounds weird but in some ways I WAS Gordon for several years. Having worked so closely with him - at one point overseeing four of his restaurants in London and France - I created most of that 'Gordon' experience. He always trusted my judgement and I knew him inside and out so it was really easy working with him.'
One year since opening Core, Clare says it's now about 'evolving and improving' the restaurant and she has no immediate plans to open others. 'I'm very focused on making Core the best restaurant it can be. I'm not one of these people who wants to open another ten restaurants over the next five years. I love what I do, I love being in the kitchen, I love food, I love cooking.'
In the meantime, she will reach an even wider audience when she appears on the new Netflix TV cooking show, The Final Table. A global culinary competition featuring some of the greatest chefs from around the world, Clare will represent the UK. 'We filmed it in LA last year, soon after Core opened, so I'm super excited to see how it comes out. The guys who produced it were the same people who did Gordon's Masterchef series so I knew a lot of them and also I knew a lot of the chefs on the programme so it was a lovely thing to do.'