As a nation mourns the end of the modern Elizabethan era, Soho mourns the end of another: the reign of Andrew Edmunds. The restaurateur and art dealer died this month at the age of 79 after making a little corner of Soho his own.
It was on Lexington Street that Andrew made his mark, with a house on one side, brimming with old prints and fine art, and on the other, his charmingly romantic restaurant. Since 1986 it has fed a devoted clientele of every age.
Soho has always somehow moved with the times. There was a great decline at the turn of the century, when its butchers and bakers, game merchants and fishmongers started to fade away. They had turned Soho into a gastronomic centre of London. But the vibrancy of food and cooking in Soho has been kept alive in its restaurants, Andrew Edmunds a decades-long part of that.
There has always been a sense of wellbeing whenever the Andrew Edmunds threshold is crossed. Diners step into a traditional and enchanting room lit by candlelight flickering on wooden pews. They were, up until this month, greeted by a genial host with a glint in his eye. He would often be putting flowers in vases to be placed on each of the tables in his most cherished dining room.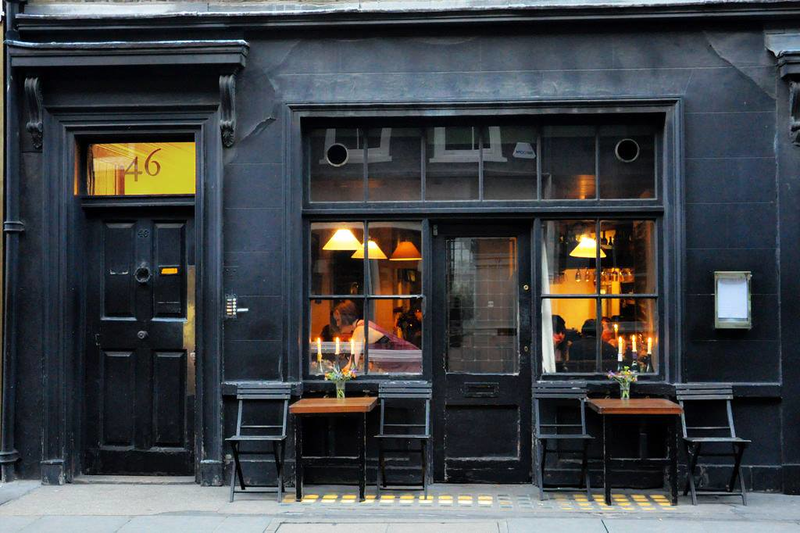 In Andrew Edmunds' restaurant there has always been respite from a world in constant bustle and often in turmoil. The only headlines chalked on the menu board might be, 'grouse for lunch'; equally thrilling are the splendid wines. For not only was Andrew blessed with an eye for beautiful art, but he also had unerring good taste in food and drink.
This is an establishment that has always eschewed the vagaries of the world. If memory serves, the first menus were a superb exercise in 'faites most simple': mostly cold dishes as the kitchen was in a nook with only a small twin burner on which to cook. The common phrase, 'only in Soho', springs to mind.
Even as each new vogue in cooking swept the headlines and made a splash, Andrew never wavered from his gentle ways and held fast to all that he cherished: a loyal crew of patrons, many of whom were friends, that ate there often, sometimes four times a week.
It cannot go unmentioned that Andrew's passing happened within just a few weeks of the death of another great figure in the realm of soho restaurateurs, Alastair Little. Both were Cambridge graduates. The writer Olivia Laing once told me that her poet husband Ian Patterson once mentioned Andrew was the only person in the 50s to bring his own horse.
And it must be mentioned that where Alastair blazed with a bright new modernity in British cooking, Andrew Edmunds, quietly, steadily and constantly, served Soho's hungry through the decades.
In his restaurant, his memory lives on, in that quiet corner of Soho. There, in the dining room, is Andrew's legacy: somewhere to get a great bottle of wine with food that is implicitly simple but replenishing and elegant; somewhere to find comfort; somewhere for a devoted following to enjoy the good things in life.