Although the Black Pig was hailed as Cornwall's Restaurant of the Year and scored highly when it first appeared in the Guide in 2005 (and picked up a Michelin star), the chef recalls ten consecutive winter days when not one customer crossed the threshold - November and February being remembered as 'particularly evil months.' The Black Pig's life was sadly short and the search for the right home resulted in Nathan Outlaw being hailed as the Guide's newcomer of the year three times over a four-year period.

The Good Food Guide 2005
The Black Pig, Rock
The Black Pig (it's named after a local trawler) doesn't look like a top-class restaurant from the outside. It's a neat, low brick building set back from the road on the edge of a small shopping centre in this tiny village across the Camel estuary from Padstow. Inside is a long, narrow dining room, light and bright, with crisply dressed tables, and a display of modern paintings on loan from the gallery in Padstow.
Seasonal, local produce, natural flavours and avoidance of gimmickry are the watchwords of young Nathan Outlaw, formerly of the Vineyard at Stockcross, who set up here in 2003. Bread of superlative quality is home-made from a starter culture derived from fermented fruit, and sets the tone for meals that might begin with a piece of seared cured salmon, accompanied by fennel and wild mushroom risotto and horse radish dressing, or a superlative foie gras parfait served with walnut toast and an intense rhubarb chutney.
Carte, set-lunch and tasting menus are written in ingredients-list fashion, with no information on how dishes are cooked or assembled, but with local suppliers credited. At inspection 'Cornish lamb' proved to be roast rack and braised neck end, both yielding in texture, bedded on savoy cabbage and creamy garlic mash, the jus given punch by shallots and thyme; 'cod' was sea-fresh, perfectly timed, and served on crunchy kale, with a feather-light potato pancake.
Not the least asset of the cooking is its holy-grail combination of lightness and resonance, an impression continuing into desserts such as a cube of electrifying orange jelly, served with sliced almond bread and banana ice cream, or a similarly intense mousse of tart green apple, with shimmering pink rhubarb sorbet. Fine shortbread and chocolate truffles come with satisfying coffee, and service is professionally coordinated by co-owners Colin Morris and Nicki Tigwell. The short, functional wine list is predominantly French and southern hemisphere, opening with half a dozen house wines from £14 (£3.75 a glass).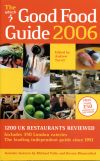 The Good Food Guide 2006
St. Ervan Manor Hotel, Padstow
Not far from Padstow and a little inland, St Ervan is mentioned in the late Sir John Betjeman's auto-biographical volume, Summoned by Bells. It is a classic Cornish village with a fine church and this elegant, grey-stone building with its double high-pitched roofs and five acres of gardens. The dining room in this former rectory is of Lilliputian proportions done in cool blue and brilliant white, with an eye-catching view over the lawns.
Nathan Outlaw, of Black Pig fame, arrived to head up the kitchen in March 2005. Having already set a formidable pace at his previous venue, he seems scarcely to have missed a beat on the short journey to St Ervan. The drill is dinner on five nights each week, and there is a straight choice of two seasonal tasting menus of six-courses each, the £20 difference between them accounted for by the value of the raw materials involved.
At a spring inspection, the lower-priced option began in a subtle but fine style with a bowl of creamy cauliflower soup dappled with curry oil and containing diced apple. An irreproachable saffron risotto topped with crisped-skinned sea bass followed, and was in turn succeeded by a serving of cubes of belly pork with sweet soused plums and forceful onion purée, a dish marked by astonishing clarity of flavours.
Monkfish and oxtail were paired in the main course, the latter appearing as a round cake of shredded meat, together with exemplary mashed potato and mushrooms cooked in sherry vinegar with pumpkin seeds. Two well-judged desserts followed: an orange brûlée with orange and star anise sorbet, and then a baked rhubarb sponge with lavender ice cream and creamed almonds, a highly satisfying study in textural contrasts.
Eating from the grander menu might take you from lobster risotto in its own bisque, through pigeon and foie gras with fig chutney, all the way to chocolate fondant with pistachio ice cream and espresso sauce. Either way, the new chef has ensured that this is a major new arrival on the already lustrous Cornish scene.
Solid collections from all French regions are complemented by a smattering of wines from elsewhere. The Sommelier's Selection,' from £15 to £31, is a good shortcut to quality bottles.

The Good Food Guide 2008
Restaurant Nathan Outlaw, Marina Villa Hotel, Fowey
The arrival of Nathan Outlaw has transformed the Marina Villa Hotel. His refined, beautifully crafted cooking is worth travelling some distance for, and there probably isn't a better or more committed chef for miles around. The newly refurbished dining room is striking – the best seats in the house have fabulous views over the Fowey estuary – but simply laid tables and approachable service ensure a relaxed ambience. In the kitchen, painstaking attention to detail offers the seasonal best of the region alongside carefully sourced meat and fish.
Classical technique informs pleasant dishes that have a fresh modern edge: an amuse-bouche, for example, was a small cup of cep soup, simple in composition, but revealing an exquisite depth of flavour. Starters proper included ox tongue teamed with anchovies as well as capers, tarragon and mint, which harmoniously blended a spectrum of stunning flavours from sweet to salty, typical of Outlaw's fresh, innovative and well-balanced approach, while cured salmon with marinated beetroot risotto, horseradish and dill has also impressed.
Often succinct and always vibrant, the cooking uses elegantly matched ingredients to achieve the most wonderful flavours, with a main course of tender pork finding its perfect partner in black pudding, apple and cider, while another's sea bass is so fresh it could satisfy on its own, although accompaniments of leeks and mustard and brown shrimps lift it still further.
A pre-dessert of gin and tonic (lime sorbet and gin jelly with a juniper syrup) was a perfectly balanced taster and set up the recipient for a simple dessert of plum tart with bay leaf ice cream. Fruits are certainly favoured at the pudding stage: rhubarb sponge with stem ginger ice cream is another enticing seasonal choice. Readers are wholly impressed.
The wine list takes a commendably user-friendly approach, grouping wines by style and offering fair prices throughout – even the more modest bottles make good drinking. Prices start at £17.

The Good Food Guide 2009
Restaurant Nathan Outlaw, Marina Villa Hotel, Fowey
Since he opened in the Marina Villa Hotel in 2007, Nathan Outlaw has been making discreet but powerful waves. The stylish, contemporary dining room offers a stunning view of the Fowey Estuary, but contains no extraneous décor to distract from the classy cooking; even napery has been banished to ensure a relaxed ambience. Outlaw's food is naturally centred on impeccable local and regional produce, meats, seafood and locally-grown vegetables, all of which come together in dishes that speak boldly and eloquently for themselves.
Reports this year have been full of praise, as much for the 'unique experience' as for the 'incredible food'. As one who tried the eight-course tasting menu noted: 'some of the dishes, like the black bream with pickled chicory tart, pistachio and grapefruit, I have consigned to my memory bank as amongst the best I have ever eaten'. Elsewhere, cured salmon with marinated beetroot risotto, the flavours pointed by horseradish and dill, might open a meal. For others, it could be pork belly with curry and apple, fried eggs and cress.
Variations on a theme may well appear among main courses, for example lamb teamed with salsify and garlic and sweetbreads with balsamic, as well as 'hugely satisfying' pairings of ling with ham, razor clams and shallot, sweet basil with bacon. Otherwise, dishes such as the benchmark rose veal with cauliflower, sage, onions and mushrooms impress in all the right ways – tender, flavourful meat, perfect accompaniments delivering resonant depths of flavour.
The British cheeses are in flawless nick, and clear flavours distinguish desserts such as spiced red wine-poached pear with vanilla rice pudding and ice cream, and blood orange mousse with toasted almond ice cream. Appetisers, pre-desserts and petits fours are all in tune with the rest of the meal, and service receives plaudits again this year for its ease, charm and general professionalism. The user-friendly wine list is grouped by style and prices start at £25.

The Good Food Guide 2010
Restaurant Nathan Outlaw, Marina Villa Hotel, Fowey
Currently king of the hill in the West Country, Nathan Outlaw goes about his business in the highly desirable Marina Villa Hotel – a boutique gem just a pebble's throw from the gorgeous Fowey Estuary. As expected, the views are pretty special (try to bag one of the sought-after window seats in the sleek dining room), although they are comfortably eclipsed by the dazzling food on offer.
Cured salmon with marinated beetroot risotto, horseradish and dill ('amazing colour'), is a signature starter that travels with Nathan wherever he chooses to hang up his apron, and it embodies his precise, calendar-friendly style. Clarity, vigorous flavours and a voracious appetite for regional produce are the hallmarks here – although teasingly abrupt menu descriptions generally conceal more than they reveal. 'Squab pigeon – chocolate and spice – potato cake and figs' is an enticing prospect, likewise 'Pork belly – cuttlefish – fennel and clementine'.
Every element of each dish impresses, whether it's the hazelnuts with beef rump and mushroom pearl barley or the mussels included in a dish of wreck fish, saffron, peppers and olives. This is scintillating, serious stuff, but it's also invested with a sense of fun – monkfish comes with rosemary dumplings and tomato ketchup, while cauliflower cheese and piccalilli could pop up as renegade gastropub companions for rose veal.
Clever desserts such as peanut mousse with banana ice cream and espresso are also guaranteed to raise a cheeky smile, although it's back to the reassuring comfort zone for the likes of apple crumble with doughnut and ice cream. Elsewhere, don't miss the revelatory assortment of artisan British cheeses. This is a labour of love: your choice is brought to the table carefully arranged on a slate with appropriate chutneys, plus a mini menu listing each item according to its strength – 'a really personal touch'. The easy-going mood is reinforced by relaxed staff who strike just the right balance between formality and friendliness, and 'genuinely seem to love the food they are serving'.
The wine list is a superior tome, helpfully categorised by style, with cherry-picked selections from across the winemaking world – and easy mark-ups to boot. Prices kick off at £20 (£7 a glass) and half-bottles abound. Nathan Outlaw recently reconnected with his old stamping ground on the north Cornish coast by opening a new restaurant in St Enodoc Hotel, Rock.

The Good Food Guide 2011
Restaurant Nathan Outlaw, St Enodoc Hotel, Rock
Having staked a claim in Rock with Nathan Outlaw Seafood & Grill, the West Country's top-ranking chef has gone the whole hog and moved his prestigious restaurant from its old base in Fowey. Set in the grand surrounds of the St Enodoc Hotel, the new standalone dining room feels more serene and less demanding on the senses than its forebear (think muted tones, grey pinstripe chairs and splashes of orange and yellow), although it has the requisite estuary views and a terrace for alfresco carousing.
Meals begin with an amuse-bouche – perhaps a mouthful of soused mackerel with tomato jam – before the kitchen casts off and gives a truly awe-inspiring display of premier-league fish cookery. Eating here is 'an education in seafood', observed one reader who worked her way through a raft of incredible, impeccably executed dishes. Natural intensity and clear flavours are the hallmarks, and nothing overpowers, cloys or distracts from the real business on the plate: it might be a dish of lemon sole with caper and potato dumplings and an ever-so-subtle parsley sauce (a world away from the glue of yesteryear), or perhaps unimpeachable red mullet, squid, mushroom and tomato all piled on top of ravioli-like squid ink pasta. The choice of fish could also run to equally sharp compositions involving sea bass with crab sauce and sea vegetables or John Dory with brown shrimps, cucumber and oyster sauce. The menus are now laid out in tasting format, which means that meatiness intensifies as you proceed towards, say, an unbelievably delicate combo of lamb cooked three ways with asparagus, sweetbreads and tiny cubes of mint jelly dotted around the plate.
Before dessert, you can slip in a cheese course – an all-British affair listed in order of strength. Finally, two puddings arrive – 'little gifts on the plate' in the shape of a 'sandcastle' of vanilla cheesecake with strawberries and mint followed by a knockout bitter chocolate mousse with pistachios and cherries. Service is totally relaxed, genuine and knowledgeable – especially if you need guidance regarding the wine list. This is a slate worthy of the food, with a peerless choice from around the globe, whether you are after a 'creamy white' or a 'chewy red'. Prices start at £24 (£7.50 a glass).