In her 2017 memoir Coming To My Senses, US chef and restaurateur Alice Waters
reflects on the vision behind Chez Panisse, her legendary restaurant in Berkeley,
California, which first opened in 1971. It was non-negotiable that menus should revolve around ingredients picked at peak ripeness from her backyard garden, or from those of similarly minded growers nearby. 'We would change the menu to
accommodate the food that had just arrived […] if some beautiful raspberries arrived we would use them straight away,' says Alice. Taste, she continues, comes from 'an
understanding of what seed should be planted in what place, how to care for the plant, when to pick it, and how quickly to eat it'.
That 1970s vision fuelled the global field to- fork phenomenon that, decades on, only
gathers strength. Few are the chefs who have not followed, in their own way, where
Waters led – think Raymond Blanc's fabled garden that provides for the Manoir Aux
Quat'Saisons' superlative menus. Or the Barley Wood walled garden near Bristol, home to The Ethicurean's plant-celebrating food. Then there's Petersham Nurseries whose beds provide tasty pickings for an Italian-inspired menu served in the glasshouse restaurant.
In 2002 Simon Rogan joined the fray in Cartmel, Cumbria. There, he created Our
Farm, turning a remote corner of Britain into a lodestar for chefs wanting to feel and smell damp soil in the creases of their hands, and put just-pulled onions, just-cut brassicas, just-picked berries into a bowl and take them straight to the kitchen. Simon's set-up is special, of course. It is the pounding heart of his business and he insists every member of staff works there before stepping into the kitchen or onto the floor. Productive areas are constantly being expanded, the move being towards growing more of fewer types of plant. 'We've got a longer supply of peas and broad beans now,' says Simon, 'and brassicas, and we preserve like mad in summer – dry, pickle, vac-pack, bottle.'
But, scaled down, the same approach works too. At 6.30am most mornings, you'll find Richard Golding in the back garden of his King's Lynn home. He'll spend an hour or so checking on things, watering. Menus for his restaurant, Market Bistro, or pop-up supper club, Ricluce, will be going through his mind; he'll pick what he needs. By 10 am he's in the kitchen finalising dishes in the light of what's on the bench, tapping into a passion for his craft he says has been reignited by the garden. 'I might poach a homegrown fig in rum and dark sugar, or make fig leaf ice cream,' he says. 'I'll braise the stems of lovage, use the leaves, make oil for a mayonnaise…'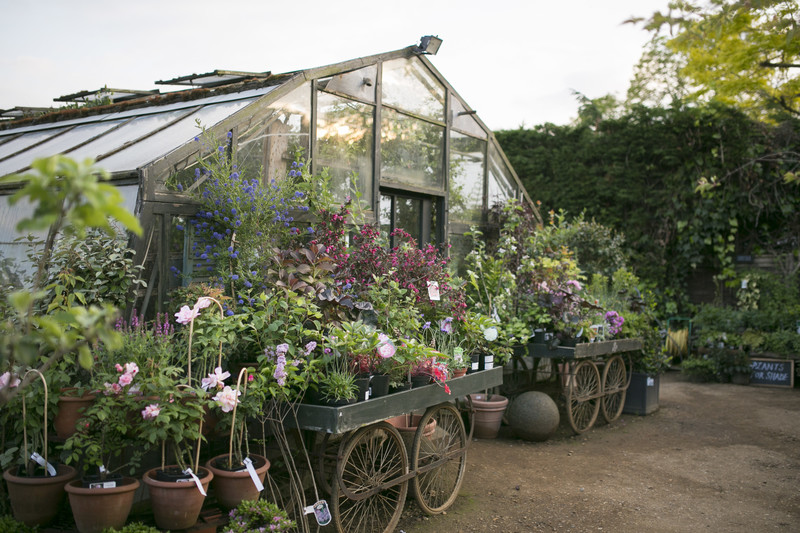 At Darsham Nurseries, Suffolk, head chef Nicola Hordern adjusts the café's
daily-changing menu according to what head gardener Anna Outlaw harvests from
polytunnels and garden. 'It would be easier to ring through an order, but this approach feels right – it's about good housekeeping too!' says Nicola, a former financial director. Outlaw's young broad beans are delicious fresh, but why discard pods that can become crisp, hot fritters to serve with a coconut masala?
Enter Galton Blackiston who is literally reaping the benefits of turning a tennis
lawn at Morston Hall, Norfolk, into a kitchen garden. 'In six months the place has been transformed!' he says. 'Guests love the story.' Gardener Lucy Birnie looks after
raised beds of peas, beans, Russian kale, tiny Paris Market carrots. Edible and
bee-friendly plants grow elsewhere – skirret ('looks like cow parsley, tastes like
a sweet parsnip'), Jerusalem artichokes('because once they're in, they're in'),
crapaudine beetroot ('great on a barbecue and easy to store').
But it's not all about bucolic rural or coastal spots. The Dairy, Clapham, is famed for its rooftop salad and herb garden, and Sat Bains' urban Nottingham restaurant is surrounded by a prolific garden. Wild garlic grows in 'living wall' troughs, minty-liquoricy perilla leaves make a delicate jelly and there are even the first pots of honey from hidden hives.
In London, meanwhile, Nathan Outlaw worked with herb expert Jekka McVicar to
make the most of the oasis-like garden at The Goring hotel (home to his latest fish
restaurant, Siren). 'We've planted ginger rosemary, which is great with seafood, different tarragons, wild strawberries and cinnamon basil – mindblowing
with the berries,' says Nathan. The kitchen garden means constant learning too, even for vastly experienced chefs such as Outlaw. 'And if I'm learning, my chefs certainly are!' he says. 'It wakes them up from the idea that cooking is about being in a basement kitchen, chopping whatever's been delivered on the order they rang up the night before.'
The last word is Simon Rogan's: 'My chefs, from every section, are out at 7.30am, picking what they need. They see produce from seed to pulling it out of the ground. They care, they're connected. That has to be the way
forward, doesn't it?'