I have read about the fishing boats in Istanbul, bringing their catch of mackerel from the Bosporus to the Galata Bridge, to sell direct from their boat. How they grill the fish on the spot, and sell it stuffed into soft white bread with salad and cry out 'balık ekmek! balık ekmek!' ('Fish sandwiches!). I have read about it but never seen it with my own eyes. The closest I've got is a mackerel baguette from Baltic Seafood, the Turkish seafood boat, currently moored at Hackney Wick in east London, but soon to set sail for its next destination along the River Lea or Regent's Canal. Mooring regulations are such that it must move every three weeks; the best way to track its whereabouts is on its Instagram account. The bossman 'Captain' Ali sells a short menu of hot fish sandwiches, chips, and seafood (prawns, octopus, calamari etc) from Billingsgate. The balık ekmek are the signature: simple, tasty and good value, with a handful of salad, some chilli and garlic, and a generous squeeze of lemon. The fish, cooked always to order is good - I suspect not as good as an Istanbul - and the 'Turkish baguette' is just the bread for the job, soft inside but with a thin, crisp crust that doesn't overwhelm the fish or make your jaw ache.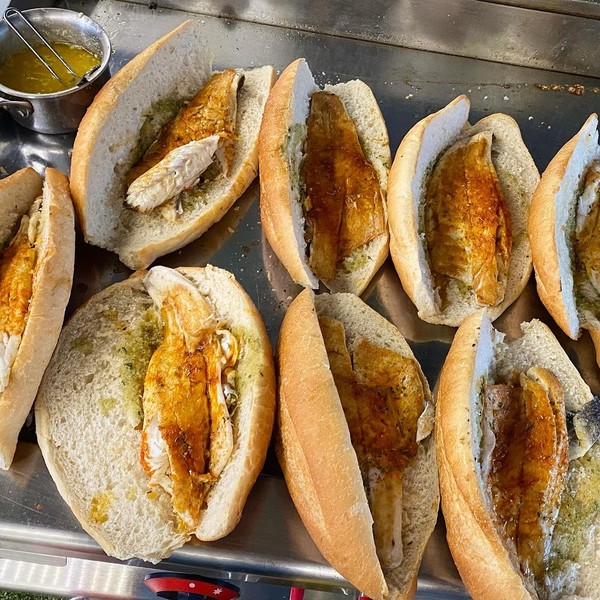 Toklas Bakery opened in 2021, at the same time as its parent restaurant Toklas at 180 The Strand. While I like the restaurant enormously, for budgetary reasons its on-site bakery is my pick for an affordable breakfast or lunch when in town. I love the seasonality of the morning goods: recently, a Danish with fresh fig and a squiggle of mascarpone and, even better, a pillowy pan de coca, baked with Muscat grapes, tahini, and brown butter frangipane. The coffee is good too. At lunch time, a sub £10 menu of soups, sandwiches and 'strecci' (Roman pizza) comes into play. The roast chicken focaccia with crispy chicken skin and roasted garlic aioli is the move.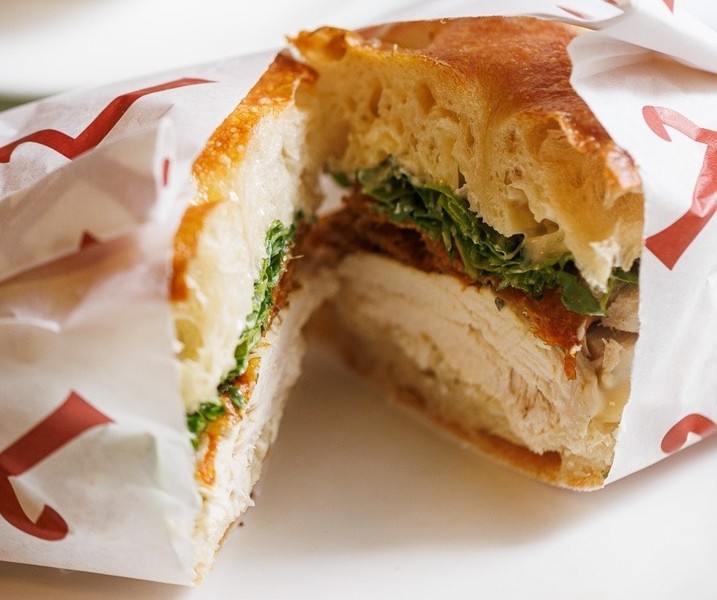 To East Dulwich for khachapuri. Kartuli occupies the handsomely tiled, Grade II-listed premises of the old David Greig shop on Lordship Lane. The Georgian restaurant and wine shop was opened by a bunch of university friends, all Georgian, in 2020, and specialises in traditional dishes such as khachapuri Georgian flatbread, badrijani (aubergine and walnut rolls), lobio (bean stew), and khinkali dumplings cooked from fresh, never frozen. Our first khachapuri is topped with a mix of cheeses including traditional mozzarella-like sulguni cheese, to achieve the right balance of tang and stretch. Our second, acharuli khachapuri, is even richer, topped with a runny egg and melted butter. If the egg seems undercooked, it isn't; the idea is to mix it through the molten cheese so it cooks into a loose soft scramble. The friendly waiter gives us a lesson in how to eat khinkali. You upend the dumpling, take a nibble, slurp the soup through the hole, then enjoy the minced pork and beef meat filling in its wrapper. A useful skill.