Craving winter warmth? Then pack your bags, not to escape the British winter but to fill yourself with the generous hospitality of pubs where log fires burn in cosy bars, and the bedrooms are as special as the food and wine. Leave the sun cream and sarong behind; all you'll need are a few layers, a good book or two, maybe some company – or the dog where allowed – and a healthy appetite.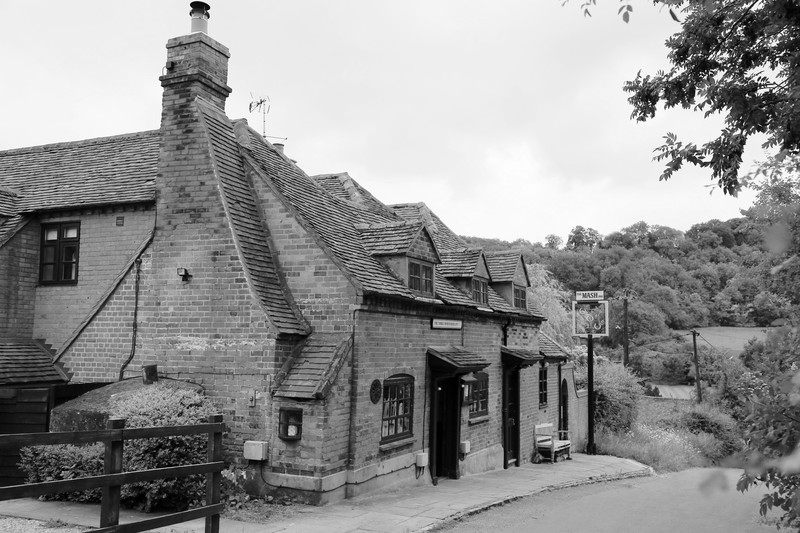 It's not surprising that the pretty, red brick Mash Inn in the Buckinghamshire hamlet of Bennett End scooped this year's Good Food Guide Restaurant of the Year award, because the food coming out of head chef Jon Parry's open kitchen is a sensational, delicious collision of the local and the seasonal; cooked on a wood-fired grill it is, inspectors decided, 'fresh but not slavishly fashionable'. The same goes for the handful of bedrooms, pared-back but oh-so-comfortable, that cocoon with Scandi style and attention to detail. There are captivating views from them across the pub garden, veg beds and ponds to the Chilterns, so you'll no doubt linger over the warm croissants and homemade granola delivered to your door for breakfast. Layered up, booted and well fed, you could take on a section of the scenic Ridgeway path – look out for red kites – or walk along country lanes towards the 13th century St Mary's church before the smell of woodsmoke and that spot by the fire pull you back to the Mash.
Head west towards the Cotswolds and The Wild Rabbit at Kingham to sink into the bed-linen-and-stone elegance that is owner Lady Carole Bamford's signature. A wood fire, woollen blankets and candles lit as night falls make it a place to hunker down in immaculate comfort. Any one of the pub's sleek rooms fits the rustic-chic bill, but check out the handmade four-poster in The Deer, or The Beehive with its separate living area with wood-burning stove and private terrace. Succumb to the temptations of Bamford's Daylesford organic farm shop a half-hour walk from the pub, but don't leave without making a date with Nathan Eades' assured menu made from the best of whatever's local, seasonal and, wherever possible, organic and free range too.



Rooms at the snugly informal Red Lion Freehouse at Chisenbury are set within a ripple of Wiltshire's gentle river Avon and not far from Stonehenge. Luxurious comfort is a given, but choose The Benjamin for space and to enjoy those river views from the bubbly warmth of a roll-top bath set in the corner of the bedroom, the perfect counterpoint to any winter chill. There's praise aplenty for Guy Manning's seriously good cooking 'full of vibrant contemporary accents and seasonal detailing'.
Staying over helps if you're minded to delve deep into a wine list. Take a room at The Sun Inn, Dedham – Elsa with its handsome oak-framed bed and view of St Mary's church is a lovely one – the better to enjoy the fire-warmed hospitality of this centuries-old pub, and owner Piers Baker's corker of a drinks list. It's packed with wines, some familiar, some not, that match chef Jack Levine's robustly seasonal cooking. You're in Constable Country, so the possibilities for a winter walk are many and beautiful.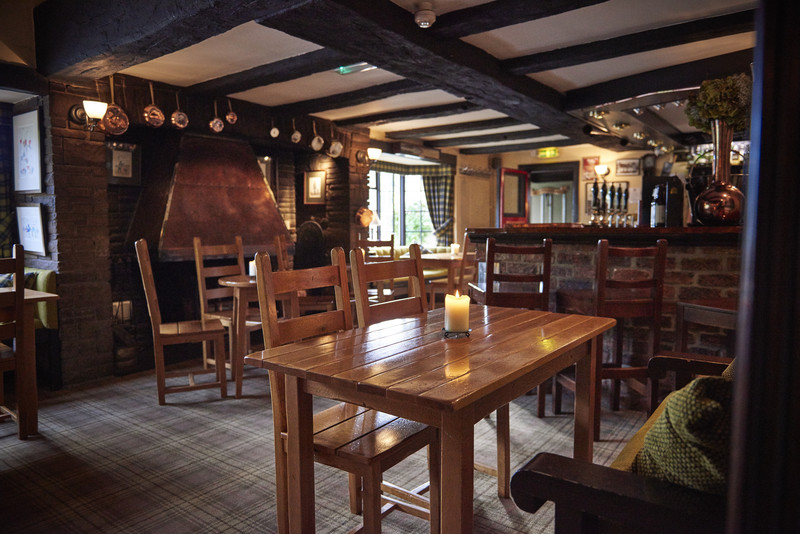 The wine list at the renowned Pipe & Glass inn at South Dalton, near Beverley, makes booking a room there a must. It's not easy to choose because all are as characterful as they are luxurious, with tactile, shimmering fabrics and bold décor. The fire-lit bar is a convivial place to gather as dusk falls and the only decision you need to make is whether to enjoy James Mackenzie's rustic charm The Mash Inn combines comfort and good food in a stunning setting magnificent, Yorkshire food there or in the more formal dining room. 
To sleep like a king or a queen while the elements do battle outside, The Bildeston Crown's 14 rooms are all irresistibly comfortable, but for a properly regal night choose Room 1 with its magnificent oak four-poster, rich damask fabrics, and elegant paintings. This gem of an inn, deep in the Suffolk countryside, shows its best side in winter when Chris Lee's hearty cooking tells the story of local game with enthusiasm. Look out for a rich ragù of rabbit with orecchiette pasta, or pheasant Kiev with ceps.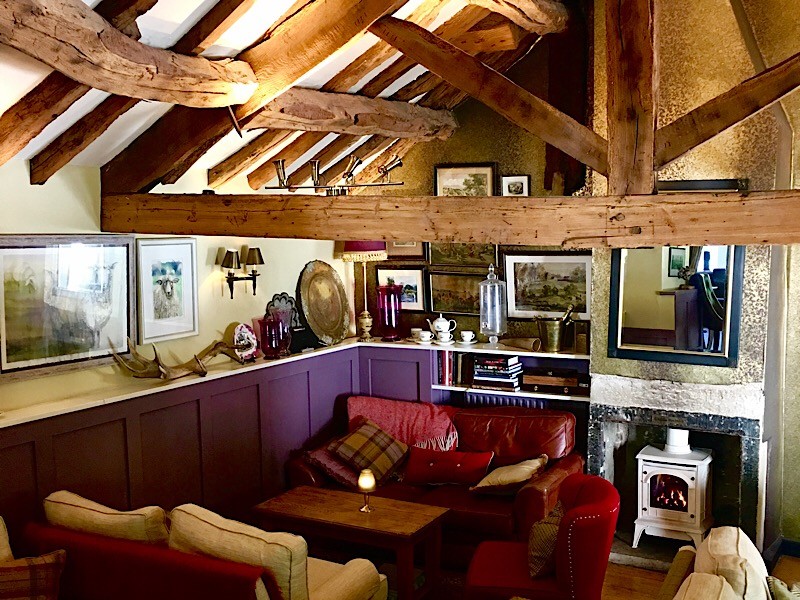 It might not be quite a four-poster, but the half-tester bed with its opulent fabrics in the Anne Lister Suite is the room to choose at the Shibden Mill Inn near Halifax. Head to the 'deeply traditional, deeply cosy bar and dining room' to enjoy the cooking of Will Webster whose classical style and flavour-packed dishes keep guests returning. Next day, explore the story of Lister (she lived at Shibden Hall and was 'Gentleman Jack' in the BBC TV series), or strike out along parts of the Calderdale or Brontë Ways as a perfect winter freshener. 
Staying in Yorkshire, The Angel at Hetton will undoubtedly beckon. One of the country's first gastropubs and now in the remarkable hands of chef-patron Michael Wignall, it's a place to eat well, and to unwind in rooms with memorable views, especially the ones over Rylstone Fell from Fell View Barn over the road. 




For a true pub-in-winter experience, The Star Inn, Harome, ticks every box and has done for a long time under the guidance of chef patron Andrew Pern. The original thatched building on the edge of the North York Moors dates back to the 14th century, and the pub bar at its heart is wood-fire warmed with its flickering flames illuminating dark evenings. Linger there before heading along the lane to Cross House Lodge where superb bedrooms and more firelight will wrap you up cosily against whatever our British winter brings.
Published January 2020
You might also like...