**PLEASE NOTE: THIS COMPETITION IS NOW CLOSED**
(The below is for information purposes only)
On 8 November 2017 our Best Local Restaurant competition launches (previously, known as Local Restaurant of the Year). Last year's new-format competition, focusing on local restaurants, was a great success. It drew more than 30,000 nominations from the public, who didn't disappoint in surfacing 10 restaurant gems. We can't wait to see what they have to show us this year.
Nominations are accepted between
8 November 2017
and
17 January 2018
.
Restaurants should invite their customers to nominate their restaurant by directing them to thegoodfoodguide.co.uk/local. Restaurants may provide their customers with postcards providing information about the awards; these direct diners to nominate the restaurant by visiting thegoodfoodguide.co.uk/local.
Please note, we no longer accept posted nominations. All printed materials are at the restaurant's expense and must be professionally printed. Restaurants may also direct customers to our online nomination form using the online button provided for their website.
Please read on for information about:
- Eligibility criteria
- Judging process
- Visual assets (postcard, button etc.)
- FAQs
Eligibility
Please ensure you read the eligibility criteria below before proceeding.
We are asking the public to nominate restaurants that:
- Are independently run
- Are owned by the chef or a hands-on proprietor
- Have menus in line with the seasons
- Offer regularly changing menus at affordable prices
- Can demonstrate a strong relationship with local suppliers
- Have strong ties to, and support from, the local community
- Are family friendly, offer affordable lunches and at least two dinner services a week
- Give a genuine warm welcome
- That show a passion for delivering all of the above.
Please consider whether you would genuinely call your restaurant a 'neighbourhood' or 'local' restaurant.
Judging
Following the closing date (17 January 2018) a shortlist of up to three restaurants from each of the ten regions (see below) will be selected, based on public nomination and adherence to the above criteria. The Good Food Guide will then request the following information; failure to provide the information by the given deadline will be taken as a decision by the restaurant to opt out of the judging process.
- Current lunch and dinner menus
- Restaurant and food images
- Chef's and owner's CVs
- List of suppliers
- A statement of no more than 500 words on why the restaurant thinks it should win, with reference to the stated criteria
A finalist will be selected from each region and will be visited by an anonymous Good Food Guide inspector. An overall winner will be chosen by the editors of The Good Food Guide in consultation with our inspectors. The decision of the editors will be final.
Previous winners of The Good Food Guide Local Restaurant of the Year awards - both regional and overall winners - will not be eligible to enter the competition. Please see FAQs for more detail.
The ten regions used for judging purposes are as follows:
- Wales
- East England
- London
- Midlands
- Northern Ireland
- North East
- North West
- Scotland
- South East
- South West
For any queries, in the first instance ensure you read all of the information provided on this page, otherwise, contact editors@thegoodfoodguide.co.uk. Please note we are currently experiencing high volumes of email, but we will endeavour to answer your query as soon as possible.
Visual Assets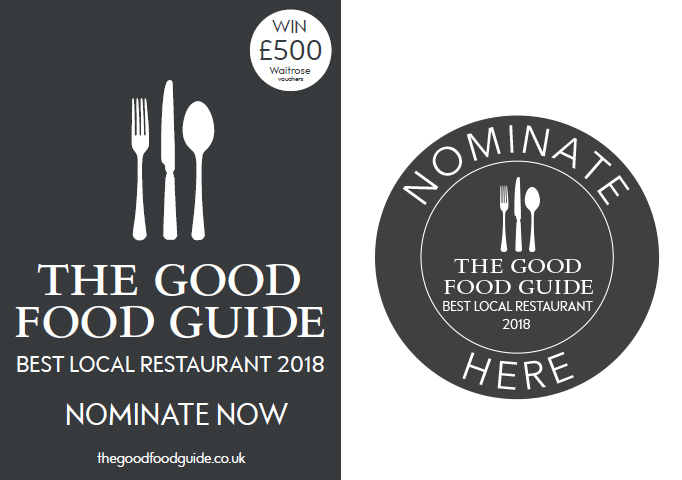 Click the link below to download print-ready postcard artwork and a button which can be placed on your website to refer customers to our online nomination form (www.thegoodfoodguide.co.uk/local).
For information on printing, please see the below FAQ.
FAQs
Q: Can you give me more details on getting the postcard printed?
Restaurants should have postcards professionally printed in keeping with the high standards of the GFG brand. Postcards should be the correct size – A6 (105mm148mm). The quantity of postcards to print is at the restaurant's discretion depending on how many of their customers might be encouraged to take one. A guide might be to consider leaving a postcard with each bill. Please note, we are not affiliated with any printers. If you are approached by a particular printer, they are not endorsed by The Good Food Guide and you may use them, or not, at your own discretion.
Q: How can customers nominate from our restaurant's website?
We have provided a button that can be placed on to restaurant websites allowing customers to nominate online. See visual assets above.
Q: Can restaurants publicise The Good Food Guide Best Local Restaurant Award?
We would encourage restaurants to publicise the award on their website, in their marketing communications, and in their restaurants. Restaurants are able to publicise the award using the materials we've provided to them, either in hardcopy or by reproducing them online.
Restaurants can also promote the fact that The Good Food Guide will enter participating customers into a prize draw for £500 of Waitrose vouchers. However, we would not approve of restaurants offering their own incentives, such as free prize draws or competitions in relation to the awards.
Q: How many nominations did you receive last year?
Last year we received over 30,000 nominations. We do not disclose how many nominations individual restaurants receive.
Q: How are nominations verified?
All nominations are individually verified by an independent company. They remove duplications, incomplete submissions and invalid entries e.g. false names. Multiple nominations for the same restaurant by an individual will not be valid.
Q: If I get nominations for the Best Local Restaurant Award, will I be included in the next Good Food Guide?
Not necessarily. The Best Local Restaurant awards are completely separate from compiling The Good Food Guide. Entries in The Good Food Guide are based on reader feedback and visits from our anonymous inspectors. However, any restaurant that goes on to win an award must be of Good Food Guide standard, and is likely to be included in the next edition of the Guide.
Q: I am a previous regional, or overall, winner of the Local Restaurant of the Year Awards (previously known as Readers' Restaurant of the Year). Why aren't I eligible for this year's awards?
In order to give recognition to new talent, and to create a level playing field for restaurants that haven't previously been brought to our attention, we took the difficult decision to exclude previous winners from the awards.
Q: How are the winners chosen?
Please see the above information on judging.