'When the doors finally open for that first service, I think it's going to be a mixture of relief, nerves and happiness,' laughs Tom Brown, looking around the site that will soon become Cornerstone, his first restaurant since leaving mentor Nathan Outlaw.
Named after his favourite Arctic Monkeys song, Cornerstone opens in London's Hackney Wick in April and all eyes are on this rising star, who was previously head chef at Outlaw's at the Capital, where he worked for six years.
Like most chefs, it has always been Brown's dream to open his own place but there are the inevitable nerves about becoming his own boss for the first time.
'It's a daunting prospect going it alone but, fortunately for me, I have an amazing team in place who are all very talented in their own fields. That's going to allow me to rely on them and for me to focus on the food and creative direction of Cornerstone.
'Working under Nathan for all those years was an incredible experience and I'm so grateful to him and the whole Outlaw family for everything they've done for me during that time.
'It was a hard decision to leave, but I'm very lucky that Nathan has been so supportive. He's always on hand to help with any concerns I've had, and anyone who's been in the same position as me will know how invaluable that is. I literally can't thank the man enough.'
Interestingly, Cornish-born Brown decided to open his first restaurant in the capital rather than return to the South West, and he is especially excited about launching in East London.
'Ever since I've lived in London I've always loved Hackney Wick, so when I came across this site it felt perfect.
'Hackney Wick has a such a great vibe and community and I felt it totally suited the type of restaurant I wanted to open.'
The style of food at Cornerstone is going to be based around the very best ingredients dictated entirely by seasonality and 'perfect execution' in the preparation and cookery, with clean and bold flavours.
Dishes that Brown and his team have been developing include marinated squid with black pudding, brown butter and blood orange dressing; roast cod with Café de Paris hollandaise, and lamb neck risotto with pickled cockles and wild garlic dressing.
'The ingredients will be the most important thing,' says Brown. 'If you don't get those right, you may as well not open the doors.
'I'll be using a lot of suppliers that I've built strong relationships and mutual trust with over the years, but I'm also looking to discover new ones, particularly local to East London and Hackney.'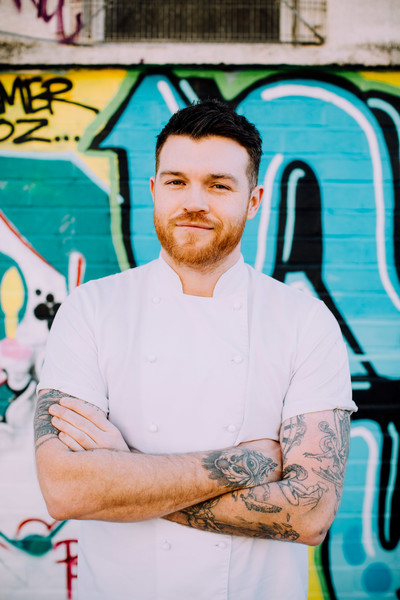 After working with Nathan Outlaw for so long, it will come as no surprise that the menu at Cornerstone will feature plenty of fish and seafood, but it will not be the driving force.
'It would be silly to not have plenty of fish on the menu, but the focus won't be solely on seafood. The biggest thing I've learnt from working with Nathan is an appreciation and understanding of produce, balance, cleanliness of flavour and restraint in dishes.
'Very often it's the simplest things that are hardest to perfect. Nathan is an absolute master of this.'
And what other skills has Brown learnt from his former boss in terms of the successful day-to-day business of running restaurants?
'In terms of how to run a restaurant, Nathan is always calm and collected, he treats all his staff with absolute respect and genuinely just wants everyone to do well. Hopefully that approach has rubbed off on me a little over the years.
'Working with Nathan as a mentor has been so important, he inspires you daily and makes you push yourself and want to be better than you were yesterday.
'If I can emulate this with my own staff, then I'll be a very happy man. My advice to young chefs just starting out in the industry is to try and find someone to work for that inspires you, work hard and be dedicated and try to soak up as much knowledge from those around you as possible.'
Published March 2018